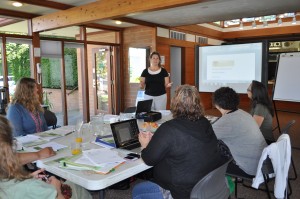 Circle of Life workers are the owners of the business.
Each employee is a member and active participant in the Circle of Life Caregiver Cooperative (COL).

Members pay a one-time fee of $300 (which can be paid through payroll deductions.)

COL business decisions are made by a Board of Directors elected by and comprised of COL members.

Business profits will be returned to workers as dividends, as determined by the Board.

There is a six month trial period for membership; memberships are approved by the Board.

Circle of Life caregivers have an investment in the success of our company, and for that reason are motivated to provide exceptional care to our clients. Good communication skills and a willingness to learn about and work within a cooperative business model are essential in Circle of Life members/employees.

Circle of Life Co-op pays caregivers $12/hr for shifts of 3 hours or more, this rate increases to $13.25 after successful completion of a three-month probation period, and again to $13.75 after Membership is approved at six months of employment.

Shifts shorter than 3 hours in length are paid at a higher rate.

Caregivers enjoy the benefit of Paid Vacation accrued based on hours worked.
Qualifications for employment as a Caregiver for COL include:
Must be at least eighteen (18) years of age

Caregiver experience and/or basic caregiver training

Acceptable references

Approval after probation period by Caregiver Coordinator and Board of Directors

Circle of Life Caregiver Cooperative:
Screens all applicants for experience, training, and communication skills.

Conducts criminal background checks on all employees as required by WA State.

Is the employer of the caregivers and handles payroll associated with caregiver compensation.

Has

liability insurance

and bonding for the business and all members.
Supports

continuing education

for our caregiver members.

Maintains an administrative office to handle client referrals, intakes, and assessments.

Has a designated person available for consultation by phone 24 hours a day, 7 d

ays a week.

Conducts active marketing and promotion of the business in the community.

Pays 100% of Labor and Industries industrial insurance.
COL is not able to offer health insurance for employees at this time.

As owners of the business, Circle of Life workers have responsibilities to:
Promote good client and worker morale

Assist with outreach to new employees and clients

Stay informed about the growth of the business

Participate in positive communication concerning the business

Be actively involved in designing training programs for workers

Attend and participate in membership or committee meetings
Circle of Life honors and respects the life experiences, dignity, and independence of elders in our community. Circle of Life honors and respects the labor, skills, and experience of our workers and provides them with peer support, training, and decision-making power in the business.